Increase Productivity With Our 5-Axis Trunnion Tables
Turn your Vertical Machining Center into a 5-Axis Production Machine!

Designed specifically for Vertical Machining Centers, ATS's 5-axis platters are built right into a precision rigid meehanite cast iron trunnion frame and table.

Standard models come with 1, 2, or 3 independent 5-axis platters on the trunnion table, giving your VMC full-range production capability.

Just like the 5-axis tombstones, ATS's trunnions are able to completely integrate with control systems, so you do not need to program the control box. Our units will work with direct m-code from your machine controls.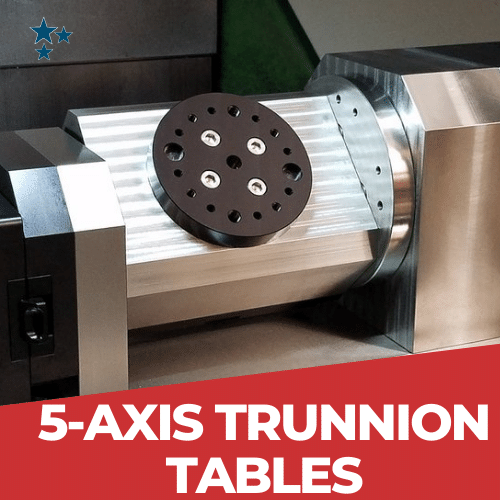 5-Axis Trunnion Specifications
| MODELS | Single Drive Trunnion Small | Single Drive Trunnion | Single Drive Trunnion Large | Dual Drive Trunnion | Dual Drive Trunnion Large | Three Drive Trunnion | Three Drive Trunnion Large |
| --- | --- | --- | --- | --- | --- | --- | --- |
| Part # | TR100S | TR100 ; TR100 RF | TR100X | TR200 | TR200X | TR300 | TR300X |
| Resolution | 0.0018º | 0.0018º | 0.0018º | 0.0018º | 0.0018º | 0.0018º | 0.0018º |
| Max Rotation/Step | 999.999º | 999.999º | 999.999º | 999.999º | 999.999º | 999.999º | 999.999º |
| Max Torque A Drive | 250 ft-lb / 339 N-m | 750 ft-lb / 1017 N-m ; 600 ft-lb / 813 N-m | 750 ft-lb / 1017 N-m | 750 ft-lb / 1017 N-m | 750 ft-lb / 1017 N-m | 750 ft-lb / 1017 N-m | 750 ft-lb / 1017 N-m |
| Max Torque C Drive | 250 ft-lb / 339 N-m | 250 ft-lb / 339 N-m | 300 ft-lb / 407 N-m | 250 ft-lb / 339 N-m | 300 ft-lb / 407 N-m | 250 ft-lb / 339 N-m | 300 ft-lb / 407 N-m |
| Accuracy | ±10 Arc Sec | ±10 Arc Sec | ±10 Arc Sec | ±10 Arc Sec | ±10 Arc Sec | ±10 Arc Sec | ±10 Arc Sec |
| Repeatability | ±5 Arc Sec | ±5 Arc Sec | ±5 Arc Sec | ±5 Arc Sec | ±5 Arc Sec | ±5 Arc Sec | ±5 Arc Sec |
| Gear Ratio | 100:1 | 100:1 | 100:1 | 100:1 | 100:1 | 100:1 | 100:1 |
| Max Part Size | 7″ (178mm) | 7″ (178mm) | 8.5″ | 7″ (178mm) | 8.5″ | 7″ (178mm) | 8.5″ |
| Construction | Meehanite Cast Iron | Meehanite Cast Iron | Meehanite Cast Iron | Meehanite Cast Iron | Meehanite Cast Iron | Meehanite Cast Iron | Meehanite Cast Iron |
| Drive Anti-Corrosion | Raydent Coating | Raydent Coating | Raydent Coating | Raydent Coating | Raydent Coating | Raydent Coating | Raydent Coating |
| Drive Diameter | 113mm | 113mm | 148mm | 113mm | 148mm | 113mm | 148mm |
| Faceplate Diameter | 135mm | 135mm | 190mm | 135mm | 190mm | 135mm | 190mm |
| Base Length | 463.55mm | 466.60mm | 503.55mm | 655.83mm | 730.25mm | 845.06mm | 970.25mm |
| C Drive Height | 200.40mm | 212.85mm | 260.02mm | 212.85mm | 260.02mm | 212.85mm | 263.19mm |
| Signal | Single M Code Function | Single M Code Function | Single M Code Function | Single M Code Function | Single M Code Function | Single M Code Function | Single M Code Function |
| Power Requirement | 110V @ 10A | 110V @ 10A | 110V @ 10A | 110V @ 10A | 110V @ 10A | 110V @ 10A | 110V @ 10A |