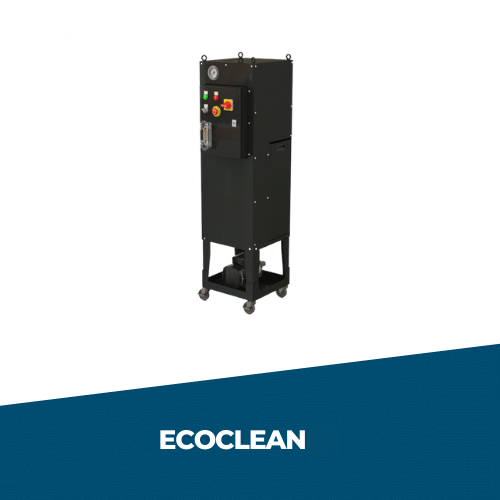 EcoClean
Features:
Low cost, efficient, stand-alone media free filtration provides
20 gpm / 75 lpm continuous filtering of your entire machine tool coolant supply

Can be installed on any machine to solve tough filtration problems.

Small footprint: 16" x 22" / 406 mm x 559 mm
Recommended applications:
Mills

Lathes

Grinders

Water-soluble coolant only



Comat Key Advantages:
Higher and more consistent quality of machined workpieces
Stability of working conditions of cutting fluid
Increased lifetime of grinding wheels and cutting tools
Increased lifetime of machines
Increase speeds & feeds
Easier recovery and recycling of valuable materials
Up to 60% less energy used over competitors
Deep automation with zero downtime for ordinary maintenance
Leading edge OS with remote management
Healthy and eco-friendly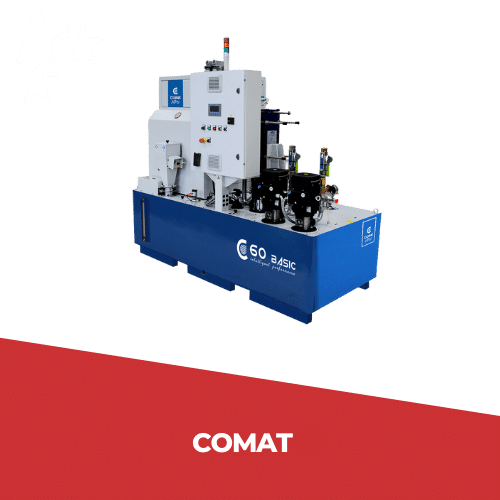 Model 1F06EU for 1 machine

Model 1F14EU - 16 for 1-2 machines

Model 1F25EU - 16 for 3-4 machines

Model 2F25EU - 16 for 5-6 machines

Model 3F25EU - 16 for 8-9 machines

Model 4 F25EU-16 for 10-12 machines
Model 1F14TA for up to 7-8 automatic lathes

Model 1F25TA for up to 12-15 automatic lathes

Model 2F25TA for up to 20 automatic lathes

Model 3F25TA for up to 25 automatic lathes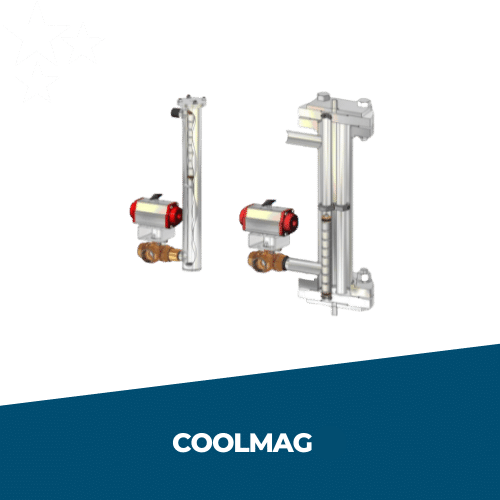 CoolMag: The industry's most effective magnetic filtration!
Drastically reduce your tank cleaning time

Dramatically improve your coolant filtration




Provide filtered coolant, automatically, all of the time

Eliminate or reduce the use of filter bags and cartridge





Features:

Patented design and unique flow path provide coolant quality to 5 microns

Compact durable design

Most powerful rare earth magnet (9,000 gauss)

Fully adjustable automatic purge cycle

No mechanical scrappers or items that need routine maintenance

Can be sized to handle any flow potential

Complete packages available for tank cleaning, fluid circuit filtering, high pressure coolant pre-filtering and much, much more
Smoke and mist are byproducts of metalworking when a fluid coolant is present, as it is in most machining applications. The heat produced by metal cutting metal vaporizes water particles, creating mist, and smoke is produced as the surface layers of material heats to sufficient temperature.

The MistBuster® is a compact, powerful electrostatic precipitator, made to clean the exhaust of metalworking machines. They are ideal for use with mills, lathes and other machines found in the typical shop. The MistBuster® System offers multiple installation configurations to minimize the amount of space required. The MistBuster® can be mounted on top of the machine.

MistBuster Air Cleaner Specs
| | |
| --- | --- |
| | MB850 |
| Part # | #3940-850 |
| Airflow | 50-850 |
| Motor | 115V, 1-ph, 3amps |
| Dimensions | (in.) 25" x 13.5" x 29" H |
| Weight | 91 lbs. |
| Noise Level | 70 dbA |
| Intake Opening | 6 inch |