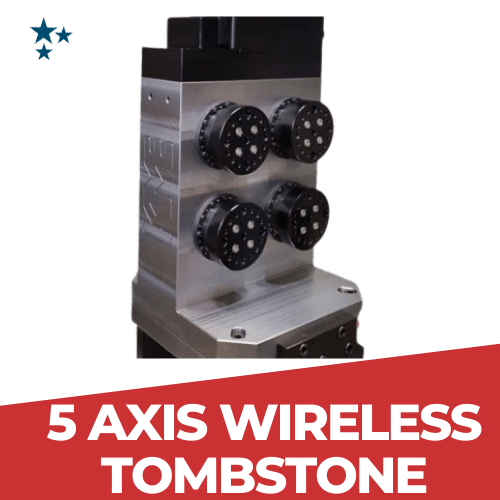 Decrease Setup Time & Increase Profits With Our 5-Axis Wireless Tombstones
Achieve 5-axis capabilities on your 3 axis horizontal machining center with ATS's Wireless 5-Axis Tombstones.

Our CNC 5-axis Systems gives you the competitive advantage by decreasing setup and machining time while increasing accuracy, repeatability, and profitability!

Custom 5-axis tombstones can be made to specific machining needs, including aluminum tombstones, double sided tombstones, tall, wide, offset, as well as different drive configurations.
TS-250 Specifications

| | |
| --- | --- |
| MODELS | 250mm |
| Part | KME-TS250 |
| Resolution | 0.0018º |
| Max Rotation/Step | 999.999º |
| Max Holding Torque | 200 ft-lb / 271 N-m |
| Rotating Torque | 30 ft-lb / 40 N-m |
| Side Load Torque | 200 ft-lb / 271 N-m |
| Accuracy | ±10 Arc Sec |
| Repeatability | ±5 Arc Sec |
| Gear Ratio | 100:01:00 |
| Max Part Size | 5.5″ (139.7mm) |
| Max Part Weight | 40 lbs |
| Construction | Meehanite Cast Iron |
| Drive Anti-Corrosion | Raydent Coating |
| Faceplate Diameter | 135mm |
| Base Size | 140mm |
| Height (Tombstone) | 140mm |
| Signal | Single M-Code Function |
| Power Requirement | 12V DC |
| Approx. Weight | 37 lbs |
TS-300 Specifications

| | |
| --- | --- |
| MODELS | 300mm 2-0 |
| Part | KME-TS300-2-0 |
| Resolution | 0.0018º |
| Max Rotation/Step | 999.999º |
| Max Holding Torque | 250 ft-lb / 339 N-m |
| Rotating Torque | 45 ft-lb / 61 N-m |
| Side Load Torque | 250 ft-lb / 339 N-m |
| Accuracy | ±10 Arc Sec |
| Repeatability | ±5 Arc Sec |
| Gear Ratio | 100:01:00 |
| Max Part Size | 5″ (127mm) |
| Max Part Weight | 40 lbs |
| Construction | Meehanite Cast Iron |
| Drive Anti-Corrosion | Raydent Coating |
| Faceplate Diameter | 135mm |
| Base Size | 300mm |
| Height (Tombstone) | 595mm |
| Signal | Single M-Code Function |
| Power Requirement | 12V DC |
| Approx. Weight | 290 lbs |
TS-400 Specifications

| | | | | | |
| --- | --- | --- | --- | --- | --- |
| MODELS | 400mm 1-0 Offset | 400mm 1-1 & 2-0 | 400mm 4-0 & 2-2 | 400mm 4-0 & 2-2 Tall | 400mm 4-0 & 2-2 Offset |
| Part | TS400-1-0 OFFSET | TS400-1-1 & 2-0 | TS400-4-4 & 2-2 | TS400-4-4 & 2-2 TALL | TS400-4-4 & 2-2 OFFSET |
| Resolution | 0.0018º | 0.0018º | 0.0018º | 0.0018º | 0.0018º |
| Max Rotation/Step | 999.999º | 999.999º | 999.999º | 999.999º | 999.999º |
| Max Holding Torque | 750 ft-lb / 407 N-m | 300 ft-lb / 407 N-m | 300 ft-lb / 407 N-m | 300 ft-lb / 407 N-m | 300 ft-lb / 407 N-m |
| Rotating Torque | 65 ft-lb / 88 N-m | 45 ft-lb / 61 N-m | 45 ft-lb / 61 N-m | 45 ft-lb / 61 N-m | 45 ft-lb / 61 N-m |
| Side Load Torque | 1250 ft-lb / 1627 N-m | 1250 ft-lb / 1627 N-m | 1250 ft-lb / 1627 N-m | 1250 ft-lb / 1627 N-m | 1250 ft-lb / 1627 N-m |
| Accuracy | ±10 Arc Sec | ±10 Arc Sec | ±10 Arc Sec | ±10 Arc Sec | ±10 Arc Sec |
| Repeatability | ±5 Arc Sec | ±5 Arc Sec | ±5 Arc Sec | ±5 Arc Sec | ±5 Arc Sec |
| Gear Ratio | 100:01:00 | 100:01:00 | 100:01:00 | 100:01:00 | 100:01:00 |
| Max Part Size | 12″ (304.8mm) | 7″ (177.8mm) | 7″ (177.8mm) | ####### | 7″ (177.8mm) |
| Max Part Weight | 140 lbs | 100 lbs | 100 lbs | 100 lbs | 100 lbs |
| Construction | Meehanite Cast Iron | Meehanite Cast Iron | Meehanite Cast Iron | Meehanite Cast Iron | Meehanite Cast Iron |
| Drive Anti-Corrosion | Raydent Coating | Raydent Coating | Raydent Coating | Raydent Coating | Raydent Coating |
| Faceplate Diameter | 250mm | 180mm | 180mm | 180mm | 180mm |
| Base Size | 400mm | 400mm | 400mm | 400mm | 400mm |
| Height (Tombstone) | 690mm | 690mm | 690mm | 840mm | 690mm |
| Signal | Single M-Code Function | Single M-Code Function | Single M-Code Function | Single M-Code Function | Single M-Code Function |
| Power Requirement | 12V DC | 12V DC | 12V DC | 12V DC | 12V DC |
| Approx. Weight | 440 lbs | 440 lbs | 450 lbs | ####### | 450 lbs |
TS-500 Specifications

| | | | | | |
| --- | --- | --- | --- | --- | --- |
| MODELS | 500mm 1-0 Offset | 500mm 1-1 & 2-0 (50-32) | 500mm 1-1 & 2-0 (72-50) | 500mm 4-0 & 2-2 | 500mm 4-0 & 2-2 Tall |
| Part | KME-TS500-1-0 OFFSET | KME-TS500-1-1 & 2-0 (50-32) | KME-TS500-1-1 & 2-0 (72-50) | KME-TS500-4-4 & 2-2 | KME-TS500-4-4 & 2-2 TALL |
| Resolution | 0.0018º | 0.0018º | 0.0018º | 0.0018º | 0.0018º |
| Max Rotation/Step | 999.999º | 999.999º | 999.999º | 999.999º | 999.999º |
| Max Holding Torque | 750 ft-lb / 1017 N-m | 300 ft-lb / 407 N-m | 750 ft-lb / 1017 N-m | 300 ft-lb / 407 N-m | 300 ft-lb / 407 N-m |
| Rotating Torque | 65 ft-lb / 88 N-m | 45 ft-lb / 61 N-m | 65 ft-lb / 88 N-m | 45 ft-lb / 61 N-m | 45 ft-lb / 61 N-m |
| Side Load Torque | 1250 ft-lb / 1627 N-m | 1250 ft-lb / 1627 N-m | 1250 ft-lb / 1627 N-m | 1250 ft-lb / 1627 N-m | 1250 ft-lb / 1627 N-m |
| Accuracy | ±10 Arc Sec | ±10 Arc Sec | ±10 Arc Sec | ±10 Arc Sec | ±10 Arc Sec |
| Repeatability | ±5 Arc Sec | ±5 Arc Sec | ±5 Arc Sec | ±5 Arc Sec | ±5 Arc Sec |
| Gear Ratio | 100:01:00 | 100:01:00 | 100:01:00 | 100:01:00 | 100:01:00 |
| Max Part Size | 16″(406mm) | 5″ (127mm) | 9″ (229mm) | 9″ (229mm) | ####### |
| Max Part Weight | 100 lbs | 100 lbs | 140 lbs | 100 lbs | 100 lbs |
| Construction | Meehanite Cast Iron | Meehanite Cast Iron | Meehanite Cast Iron | Meehanite Cast Iron | Meehanite Cast Iron |
| Drive Anti-Corrosion | Raydent Coating | Raydent Coating | Raydent Coating | Raydent Coating | Raydent Coating |
| Faceplate Diameter | 355mm | 180mm | 250mm | 180mm | 180mm |
| Base Size | 500mm | 500mm | 500mm | 500mm | 500mm |
| Height (Tombstone) | 803mm | 803mm | 803mm | 803mm | 953mm |
| Signal | Single M-Code Function | Single M-Code Function | Single M-Code Function | Single M-Code Function | Single M-Code Function |
| Power Requirement | 12V DC | 12V DC | 12V DC | 12V DC | 12V DC |
| Approx. Weight | 640 lbs | 640 lbs | 650 lbs | 650 lbs | ####### |
TS-630 Specifications

| | | | |
| --- | --- | --- | --- |
| MODELS | 630mm 1-0 Offset | 630mm 1-1 & 2-0 | 630mm 4-0 & 2-2 |
| Part | KME-TS630-1-0 OFFSET | KME-TS630-1-1 & 2-0 | KME-TS630-4-0 & 2-2 |
| Resolution | 0.0018º | 0.0018º | 0.0018º |
| Max Rotation/Step | 999.999º | 999.999º | 999.999º |
| Max Holding Torque | 750 ft-lb / 1017 N-m | 750 ft-lb / 1017 N-m | 750 ft-lb / 1017 N-m |
| Rotating Torque | 65 ft-lb / 88 N-m | 65 ft-lb / 88 N-m | 65 ft-lb / 88 N-m |
| Side Load Torque | 1250 ft-lb / 1627 N-m | 1250 ft-lb / 1627 N-m | 1250 ft-lb / 1627 N-m |
| Accuracy | ±10 Arc Sec | ±10 Arc Sec | ±10 Arc Sec |
| Repeatability | ±5 Arc Sec | ±5 Arc Sec | ±5 Arc Sec |
| Gear Ratio | 100:01:00 | 100:01:00 | 100:01:00 |
| Max Part Size | 16″ (406mm) | 12″ (304.8mm) | 12″ (304.8mm) |
| Max Part Weight | 140 lbs | 140 lbs | 140 lbs |
| Construction | Meehanite Cast Iron | Meehanite Cast Iron | Meehanite Cast Iron |
| Drive Anti-Corrosion | Raydent Coating | Raydent Coating | Raydent Coating |
| Faceplate Diameter | 355mm | 250mm | 250mm |
| Base Size | 630mm | 630mm | 630mm |
| Height (Tombstone) | 903mm | 903mm | 903mm |
| Signal | Single M-Code Function | Single M-Code Function | Single M-Code Function |
| Power Requirement | 12V DC | 12V DC | 12V DC |
| Approx. Weight | 1040 lbs | 1025 lbs | 1050 lbs |